Currently, our cool wine lockers are kept at 58° and 65-75% humidity and hold 14-16 cases of standard 750's. Larger, 21-24 case, lockers are planned for the near term. We have a 25,000 watt back-up generator on-site, as well as an extensive alarm system. We also accept direct shipments from wineries, brokers, etc., to remove the hassles of scheduling deliveries at home or at work.

Grand Cru
2920 Arden Way Ste N
Sacramento, CA 95825

Tel 916-483-8738
Fax 916-486-1488
E-Mail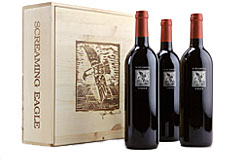 We are a couple of wine lovers that, over time, found we had a need for secure, temperature-controlled cellaring to protect our own investments. We also wanted a place where we could relax and share our wines with with fellow enophiles. Finding nothing in the Sacramento area that met our desires, we decided to build our own. If you, too, have wines that you would like to properly cellar in a secure environment, please feel free to stop by and visit our facility.

Thank you for visiting our website; we hope to see you soon.




Want to see more? ...